Garmin Vivosmart 4: £119.99, Garmin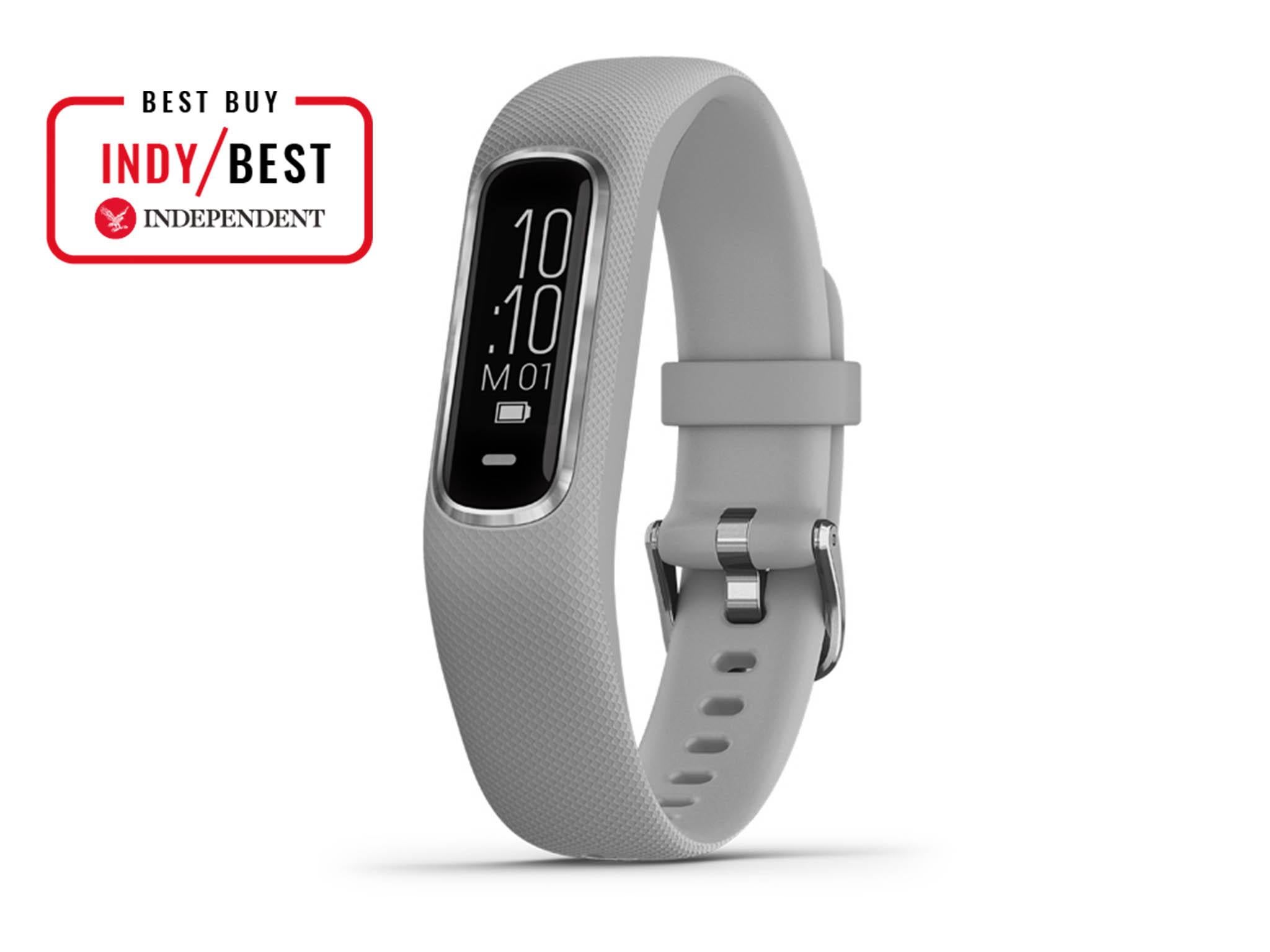 With its giant range of sports watches and fitness trackers, Garmin has smashed it out of the park over the past few years and this latest slim line update to the Vivosmart is no exception.
In terms of design, it's not a million miles away from the Fitbit Alta HR, with a basic but subtle style that's lightweight and comfortable enough to be worn 24/7. Like the Alta HR, it also lacks built-in GPS, which might be a deal-breaker for some.
The Vivosmart 4's bright screen automatically adjusts to the light, so it's readable in all conditions, though at 6.6 mm x 17.7 mm, the amount of useful data you can see on your wrist is a bit limited. That's a shame, because the range of fitness stats it collects is impressive.
In addition to the usual daily activity tracking, there's also a built-in optical heart rate for keeping tabs on your BPM day and night, and a Pulse Ox sensor that estimates blood oxygen saturation, to add a layer of detail to your sleep tracking. You get VO2 Max as a guide to your fitness levels and a new Body Battery feature that assesses your energy levels to help you identify when you're primed to be active or when you need to hit the sofa.
If you're a regular in the weights section at the gym, you'll also enjoy automatic reps, sets and rest counting, though it's not always 100 per cent accurate. Those in search of calm can also monitor their mood with all-day stress tracking.
All your data is synced wirelessly and automatically to the hugely capable, but sometimes complicated, Garmin Connect app.
Unlike its closest rival the Fitbit Alta HR, the Vivosmart is waterproof to 5ATM, meaning you can take it for a dip in the pool. You also get an Alta-matching seven days battery life between charges.
Fitbit Alta HR: £119.99, John Lewis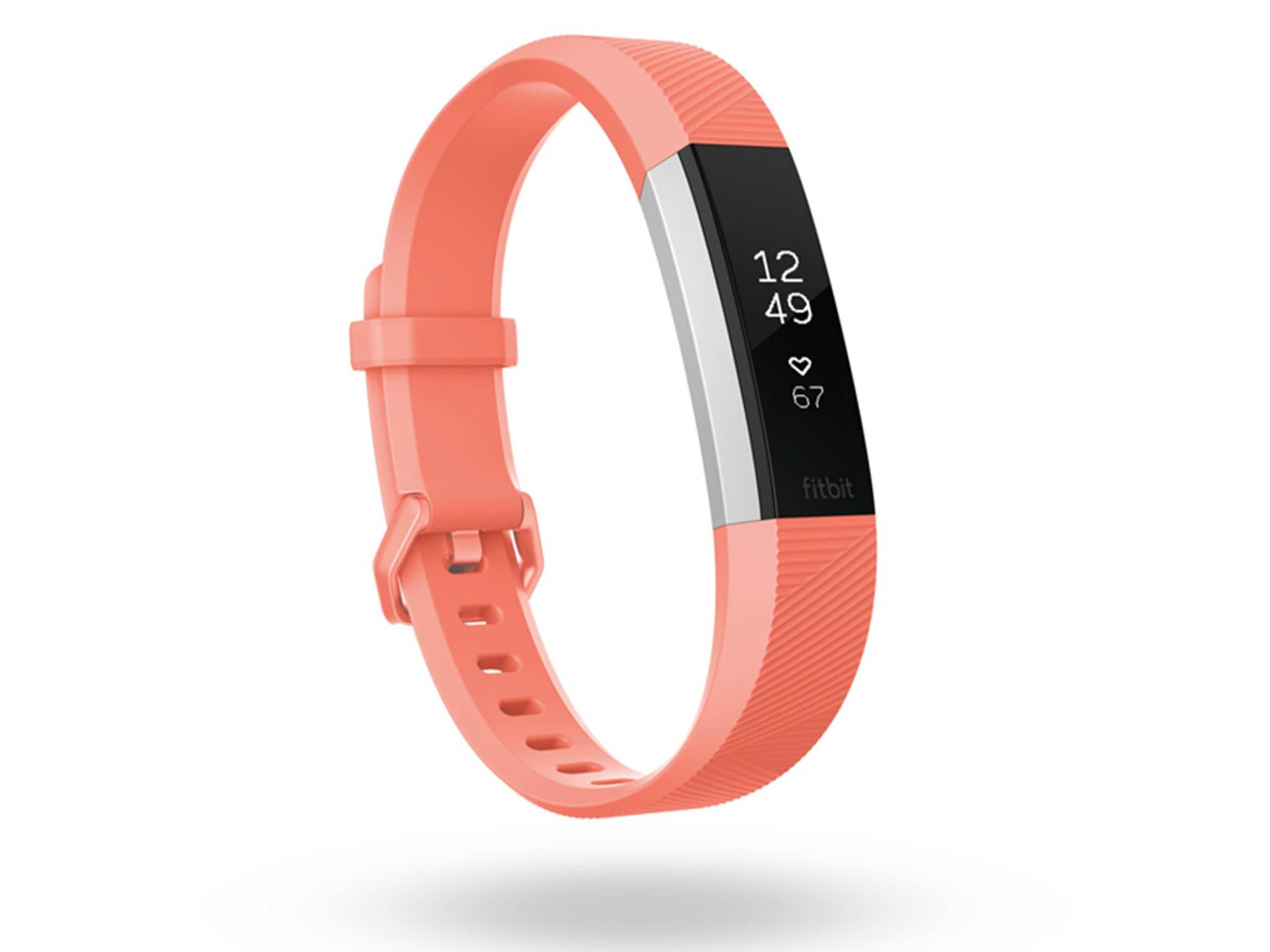 The Fitbit Alta HR is an old-school fitness band with an updated sense of style and sophistication. The simple, slim line design – with five colour combinations – makes this a great choice for anyone who wants a comfortable and understated way to track their fitness. The addition of a built-in heart rate monitor also means it's a far more serious fitness tool than its predecessor the Fitbit Alta.
The heart rate sensor provides heart rate zone training, more accurate calorie burn stats and resting heart rate tracking. Fitbit using the latter generates a Cardio Fitness Score so you can monitor your fitness progress.
Other neat features we loved included automatic workout recognition that spots when you start a session and what activity you're up to, whether that's walking, running or cycling. Swimmers are in luck, too, as this device is sweat, rain and water resistant, rather than just waterproof.
Fitbit's sleep tracking has always been solid and the Alta HR doesn't disappoint with automatic sleep tracking that splits your nightly zeds into stages. During the day, handy move reminders urge you to reach hourly step targets, plus you get all of your text, calls and calendars alerts, though these aren't the easiest to read on the screen.
There's a nicely competitive seven-day battery life, so you don't have to charge it too frequently. All your stats sync wirelessly and automatically to the Fitbit app, which is also one of the best for ease of use, presentation and community, if sharing and competing floats your motivational boat.
Fitbit Versa: £159, Amazon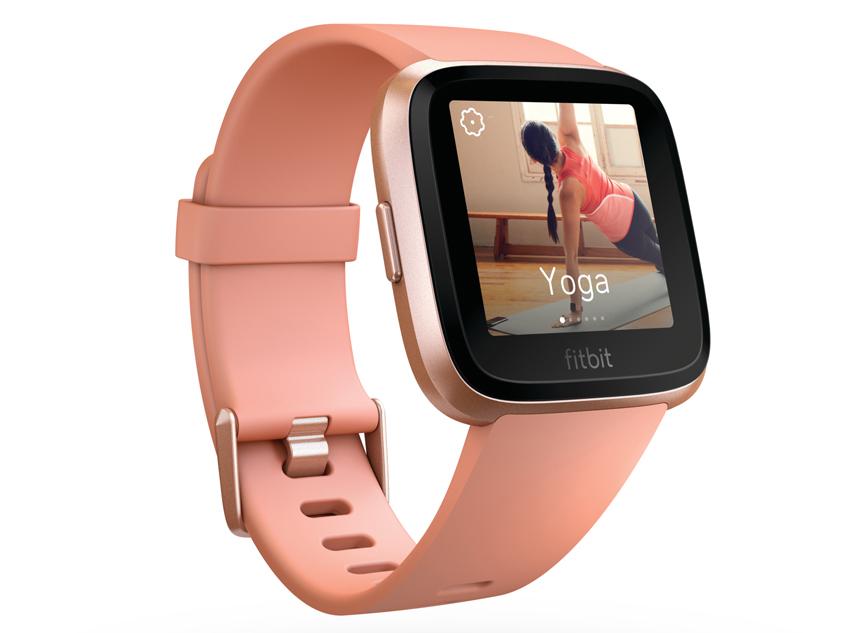 The Versa is the second fitness-focussed smartwatch in the Fitbit range and sports a much more pleasing Apple Watch-esque design than the square-faced, angular Ionic that came before. It's also incredibly light, with a bright 1.34-inch colour display that's crisp and easy to read.
Appearances are a little deceiving, however, as the Versa isn't quite Apple Watch quality. That said, Fitbit has taken care with the Versa styling, including the ability to personalise it with interchangeable straps and customisable watch faces.
As with the Alta HR, there's built in heart rate tracking on the wrist for deeper fitness insights across 15 sports modes. Sleep tracking is automatic and uses the heart rate monitor to accurately break your nightly rest into sleep stages, plus you get those useful hourly move reminders too.
Where the Versa starts to stand out is with health tracking features specifically for women that enables users to log periods, track your menstrual cycle and gauge ovulation.
Unlike the Apple Watch and other dedicated sports watches like the Polar Vantage M or the Garmin Forerunner 235, there's no built-in GPS, so if you want to track runs and rides you'll need your phone in tow. It is waterproof to 50m, however, and tracks swimming along with yoga.
The Versa also includes a free, three-session taster of Fitbit Coach, a premium service that offers personalised guided workouts and coaching plans to help you hit your goals.
Beyond fitness, the Versa's smarts extend to call, text and app alerts from your paired smartphone and there's also Fitbit Pay contactless payments. You can download third party apps, with Strava and Starbucks pre-loaded – just don't expect a huge choice. It also comes with storage and wireless playback for 300 songs, though this feels a bit redundant when you're running or cycling as you still need to carry your phone.
Battery life stretches to a healthy four days, making this is a solid, wallet-friendly alternative for Android users who want a smartwatch, but can't use the Apple Watch.
Apple Watch 4: £399.99, Apple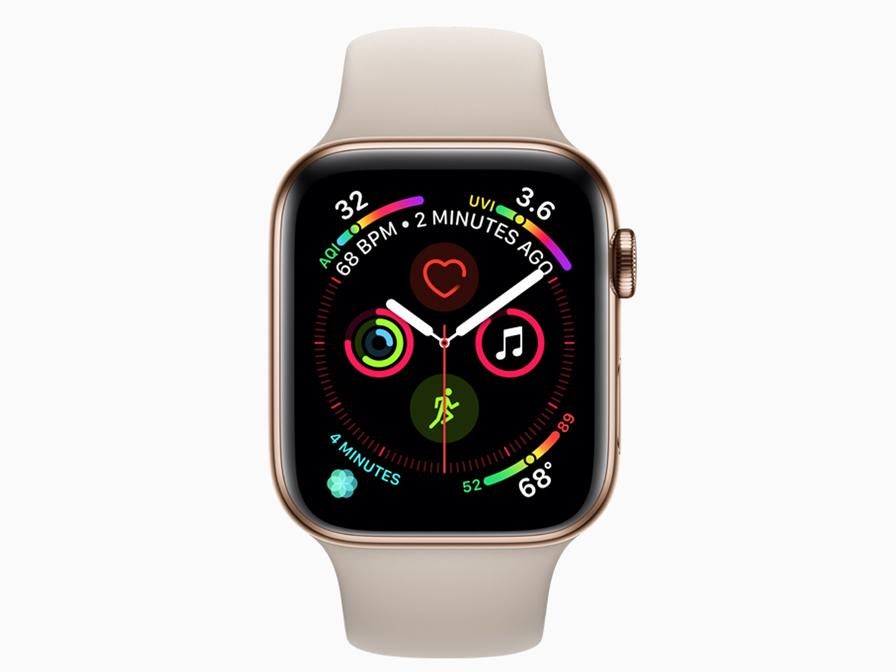 It seems a little unfair to compare Apple's flagship timepiece with the more traditional fitness trackers but if you're considering the smartwatch end of the spectrum – and you've got the bank balance to back it up – the latest generation of the Apple Watch is unrivalled.
It's undoubtedly the best looking device on this list with a clear, crisp colour touchscreen that's now virtually edge-to-edge. The well-stocked app store is teeming with third party fitness tools for almost every activity, from mindfulness to Hiit training, and Apple's own Workout and Activity apps continue to improve.
The addictive Apple Activity rings – that track your movement, how often you stand and your minutes of exercise each day – now come with a feature that lets you challenge your friends. While Apple's Workout app offers neat sport-specific touches like automatic stroke detection for swimming, new metrics for running, such as rolling mile pace, and single tap transitions to make it easier for triathletes to track sessions that move between the water, two wheels and the road.
It's serious health monitoring credentials have been boosted with the introduction of an Electrocardiogram, or EKG, sensor that takes reliable heart rate readings that can help spot potentially life-threatening heart anomalies.
Beyond fitness, its smart skills are also second to none, particularly if you opt for the cellular 4G version that enables a multitude of phone-free services, including calls, music streaming and contactless payments.
One complaint about this device used to be battery life, but you'll now get at least 18 hours on a single charge depending on which of the Watch's features you use.
Xiaomi Mi Band 3: £24.99, AppliancesDirect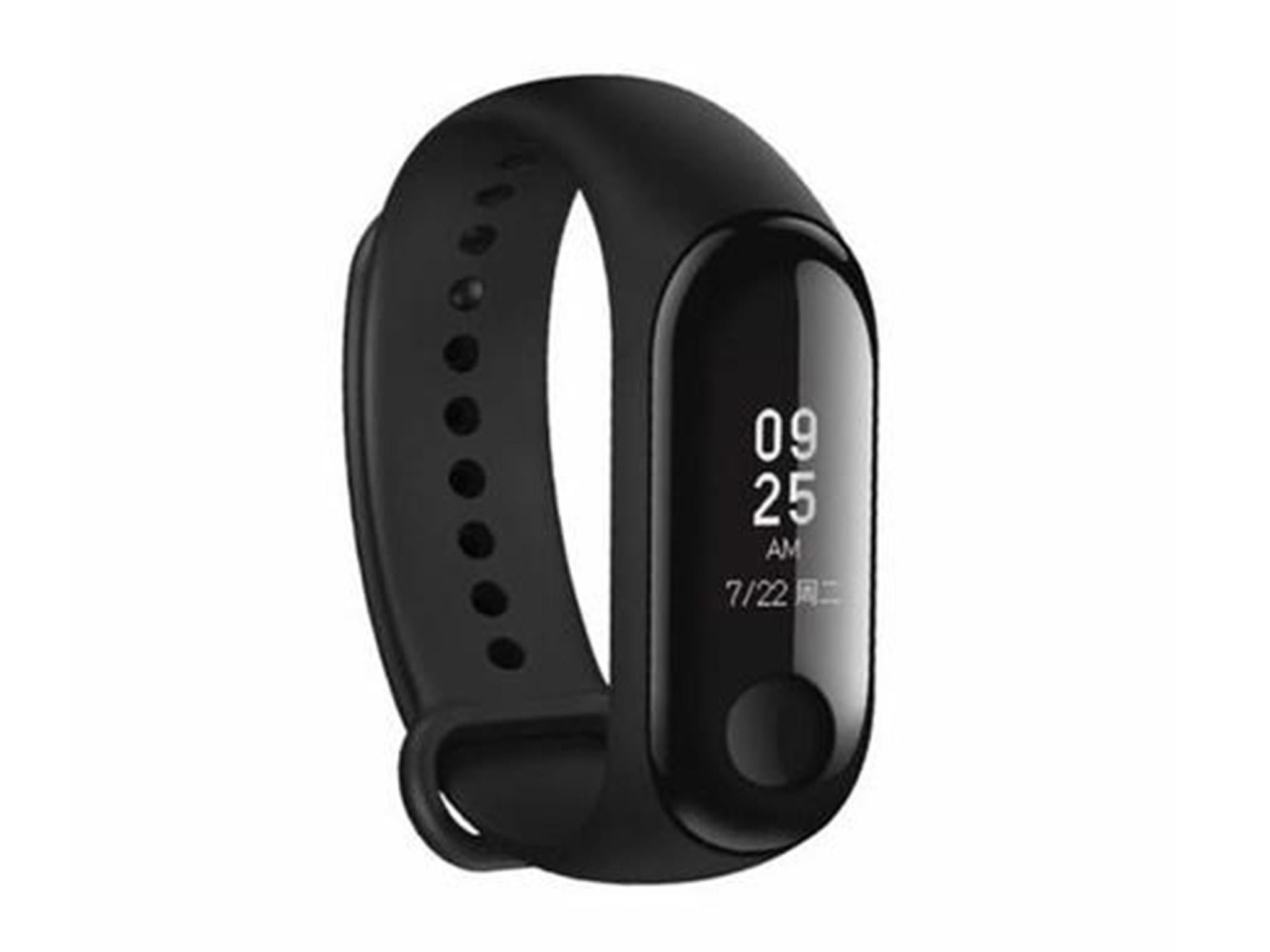 The Xiaomi Mi Band series is all about delivering fitness tracking to those on tighter budgets. As such, it's not the most robust and reliable fitness tracker, but if you're looking for an activity band that does some of the basics well for under £50, this is it.
At just 20g, the third generation Mi Band is nice and lightweight, despite boasting a bigger curved OLED touchscreen display than its predecessor. Despite this upgrade, however, it can still be quite hard to read your stats in brighter daylight conditions and, like the Vivosmart, there's not a huge amount of space for your data to be displayed.